ffice:smarttags" name="place">
ffice:smarttags" name="City">
ffice:smarttags" name="State">
ffice:smarttags" name="country-region">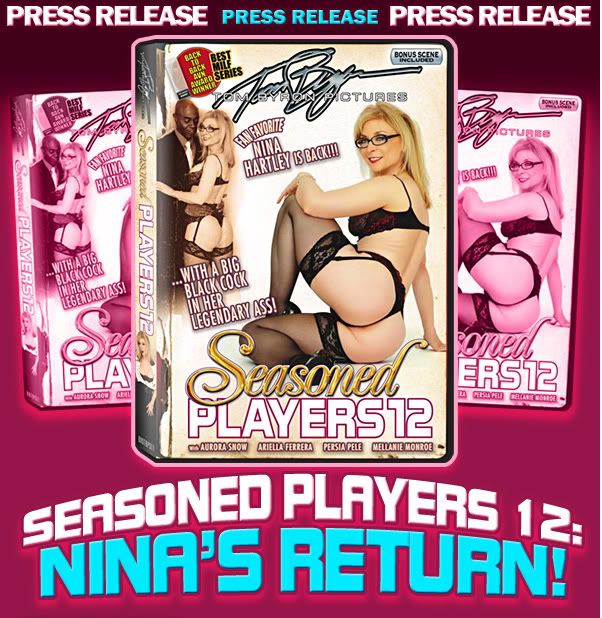 Seasoned Players 12: Nina's Return!
FOR IMMEDIATE RELEASE:
(VAN
NUYS, CA
) March 17, 2010 —
Evolution Distribution
and Tom Byron Pictures team up once again with legendary adult star Nina Hartley!
The devine-and-horny Ms. Hartley graced the cover of Seasoned Players 2, and she's come back (and gone black!) for 2010, as the star of Seasoned Players 12! Her intense sex scene with Sean Michaels proves why she is THE top MILF performer out there: raising her rear for a powerful pounding, Nina then sucks him dry like a vacuum, Seasoned Player-style!
"Nina is a lot of things to this industry: an accomplished actress, an astute spokesperson and an excellent role model. But when she takes Sean's black mamba up her shitpipe, she becomes a greedy fuck-machine. A seething huntress on the prowl for man-meat," says the director.
"THAT, my friends, is what makes her a legend in the porn business!"
Aurora Snow,
Mellanie Monroe, Persia
Pele, and Ariella Ferrera round out the cast. Seasoned Players 12 cums complete with blow jobs, tittie-pumping, and some crazy positions you wish you could replicate at home (not to mention Nina's aforementioned anal scene)! These women sure know how to please – and they certainly haven't lost their touch!
If you love MILF titles, you have to add Seasoned Players 12 to your collection! For retail ordering information, please contact Adam Hasner, Evolution Distribution Sales Manager, at 609-426-1777, ext. 233, or email
adam@evolutiondist.com
.
If you would like any productions stills, screeners, trailers or interviews with Tom Byron or any of the legendary performers involved, please email
alexandra@evolutiondist.com
, or call 609-426-1777, ext. 558.