Porn Reviews » Adult Movie Reviews » Anal Inferno

Category: Anal/Gonzo/POV+

Studio:
Cast: Jynx Maze/Asa Akira/Mahina Zaltana/Mya Luanna/Jada Stevens/Tori Lux/Karina O' Reilley/Carolyn Reese (Bonus Scene)
Director: Mike Adriano
Extras: Photo Galleries/Trailers/Cum Recap
*Bonus Scene: Carolyn Reese & Mike Adriano
Release Date: 3/14/2011
Runtime: 329 Mins
Click For Trailer!
-- sponsored by --
*Scene 1:
Jynx Maze/Asa Akira/Mike Adriano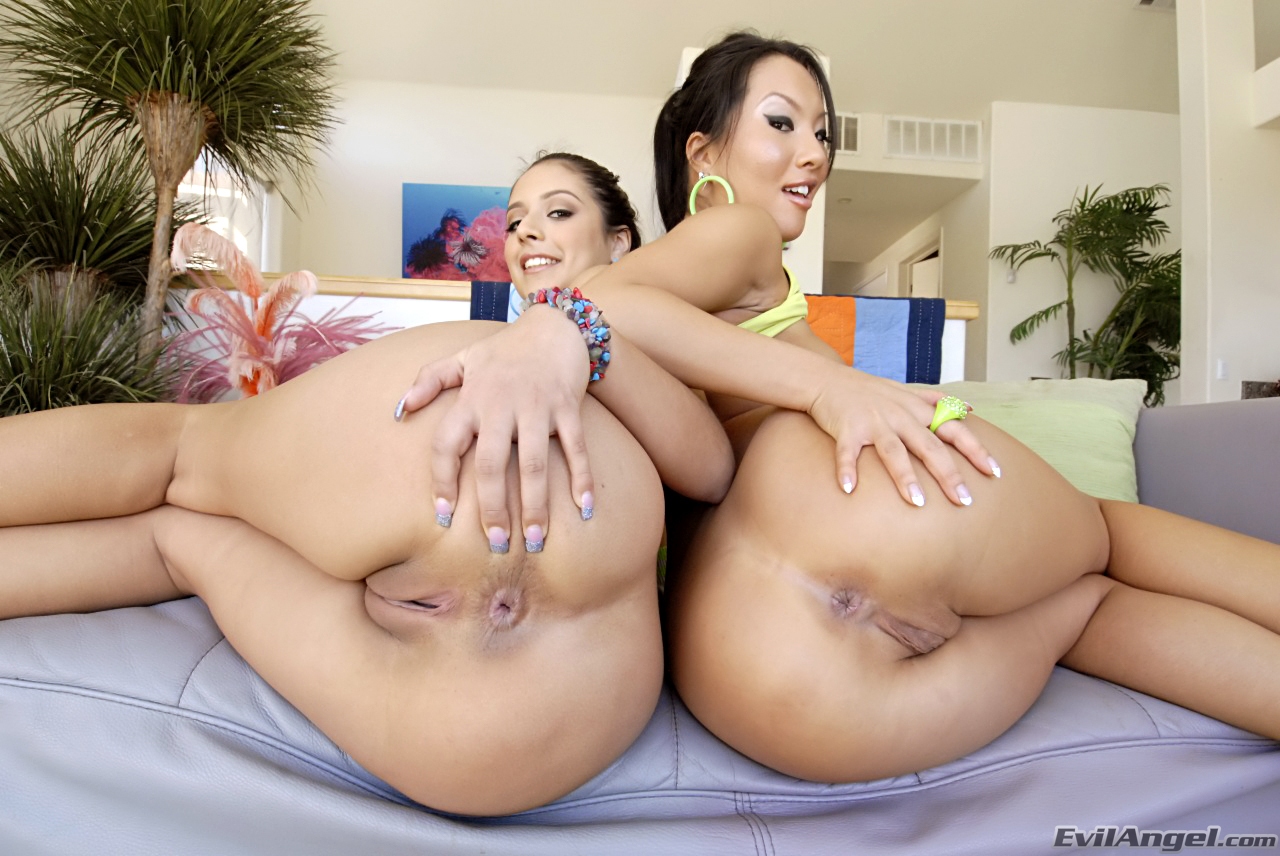 The first scene in 'Anal Inferno' begins with porno superstars Asa Akira and Jynx Maze sitting on a couch in front of Mike as they are dressed sporty workout attire. The girls are giggly and teasing through this introduction, and Mike ask them a few random questions throughout. We continue on through this beginning segment and there are some great walkshots that Mike captures of the girls' asses. This continues for another 20 minutes or so, and the tease is chock full of ass play, girls kissing, mouth spitting, tit play, and everything else you can imagine a great tease having. The action finally begins with Asa tonguing Jynx's asshole as Mike coaches her from stage left. The girls take turns doing this to each other until Mike finally steps onto set about 25 minutes through to help Asa eat Jynx's asshole. We move forward to the blowjob where Jynx and Asa work in some very nice deepthroats early on. Things get pretty sloppy in a hurry here,and the girls playful attitudes are making for some great stroke fodder here. Before long the girls are covered in spit and cock juices as their smiling faces go back and forth on Mike's meatpole. The energy is great early on and the sex begins in a doggie style anal where Asa is bent over the couch as Jynx rests her head on Asa's ass to keep a close eye on the task at hand. During this Mike blows some premature ejaculate onto Jynx's face, "We got one out of him!" Jynx says playfully. Wow. The trio then move on without any halt in the action and the girls rotate positions later as Jynx is the one getting assfucked now. The scene charges forward with lots of great action and Jynx does some fantastic narration for the home viewers as it does. Her attentiveness toward the camera is hypnotizing and much of the time when Asa is getting pounded I found myself waiting for what Jynx would say next. This is great stuff here. The scene ends when Mike pulls out of Jynx from the spoon position to spray his ejaculate into Asa's mouth, followed by some cum swapping fun. This scene was great. Both of the girls were so enthusiatic, and obviously enjoying themselves very much. I enjoyed it.
*Scene 2:
Mahina Zaltana/Mike Adriano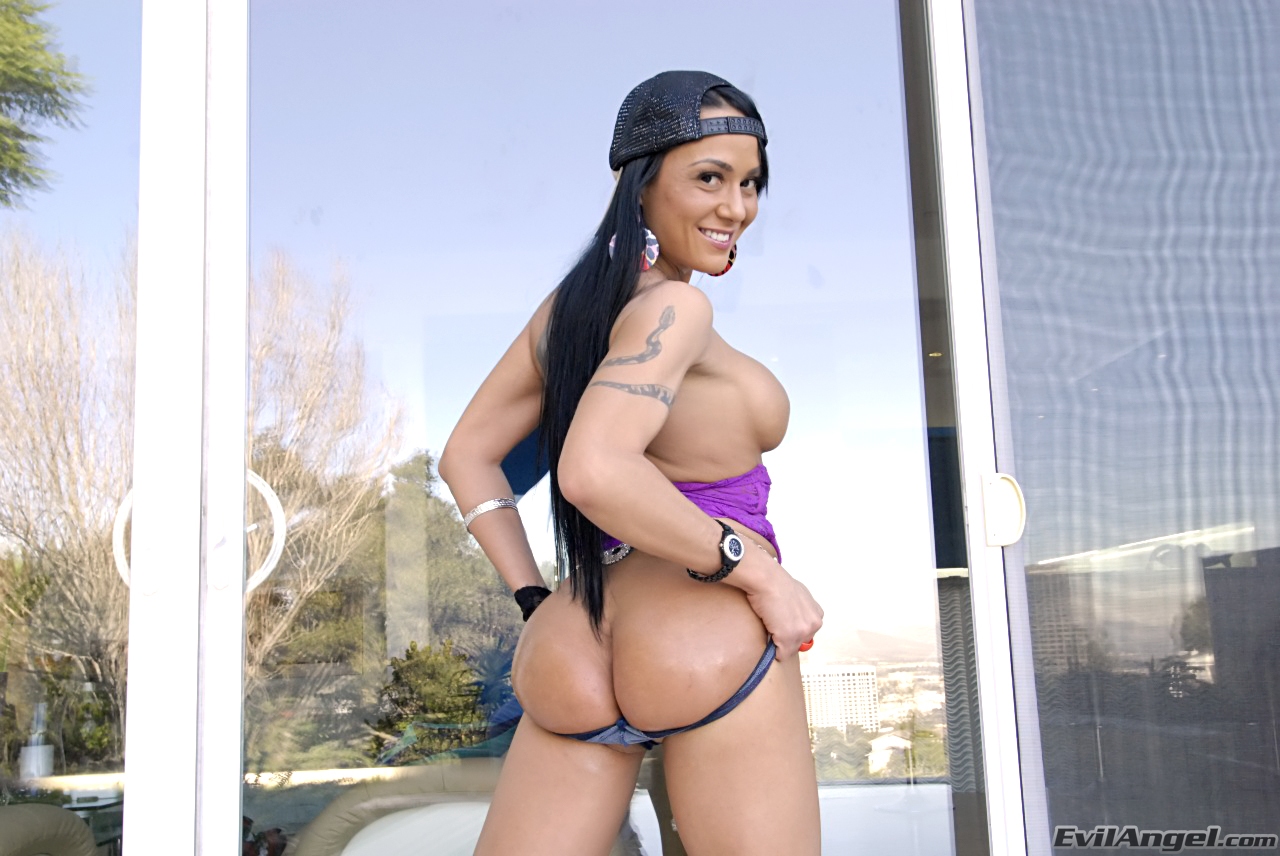 The second scene starts with dirty girl Mahina Zaltana standing in front of Mike as he shares in some conversation with her. Mahina is wearing a tight purple top, tiny booty shorts, some high heels, and a backwards ball cap to finalize the look. Mahina's body is awesome here and she teases wonderfully during this conversation/tease piece. Mike applies some oil to Mahina's ass with a little help from her as the scene starts, and he gets a couple walkshots of Mahina's ass while the camera closely follows. She walks for awhile with her well oiled ass before she tells Mike to put his face in her ass, Mike obliges and the action begins in the form of a proper ass munching. There's lots more tease here, mostly in the form of assplay and there's a nice moment here where Mike gets four fingers fully inside of Mahina's asshole. The bj begins and contains some nice closeup shots of Mahina as she does her best to throat every inch of Mike's member. The blowjob then cuts from outside and continues indoors where we see Mahina in a pov format as she massages Mike's dong via mouth. There's some awesome deepthroating here and we get progressively sloppier as it goes on. There are some great moments throughout this bj, Mahina really starts putting her throat to the test here as we move forward. The sex begins after some dildo play in a missionary style anal banging. We move forward and Mahina stays deeply immersed in the scene, sharing much interaction with the camera which I thought was a beautiful touch. The scene later comes to a close after Mike pulls out of Mahina's ass and shoots his ball juice into a wine glass, later feeding the contents of the wine glass to Mahina as she swallows it all up while staring into the camera. Great scene, Mahina's enthusiasm and overall fucking abilities shined. Good scene.
*Scene 3:
Mya Luanna /Mike Adriano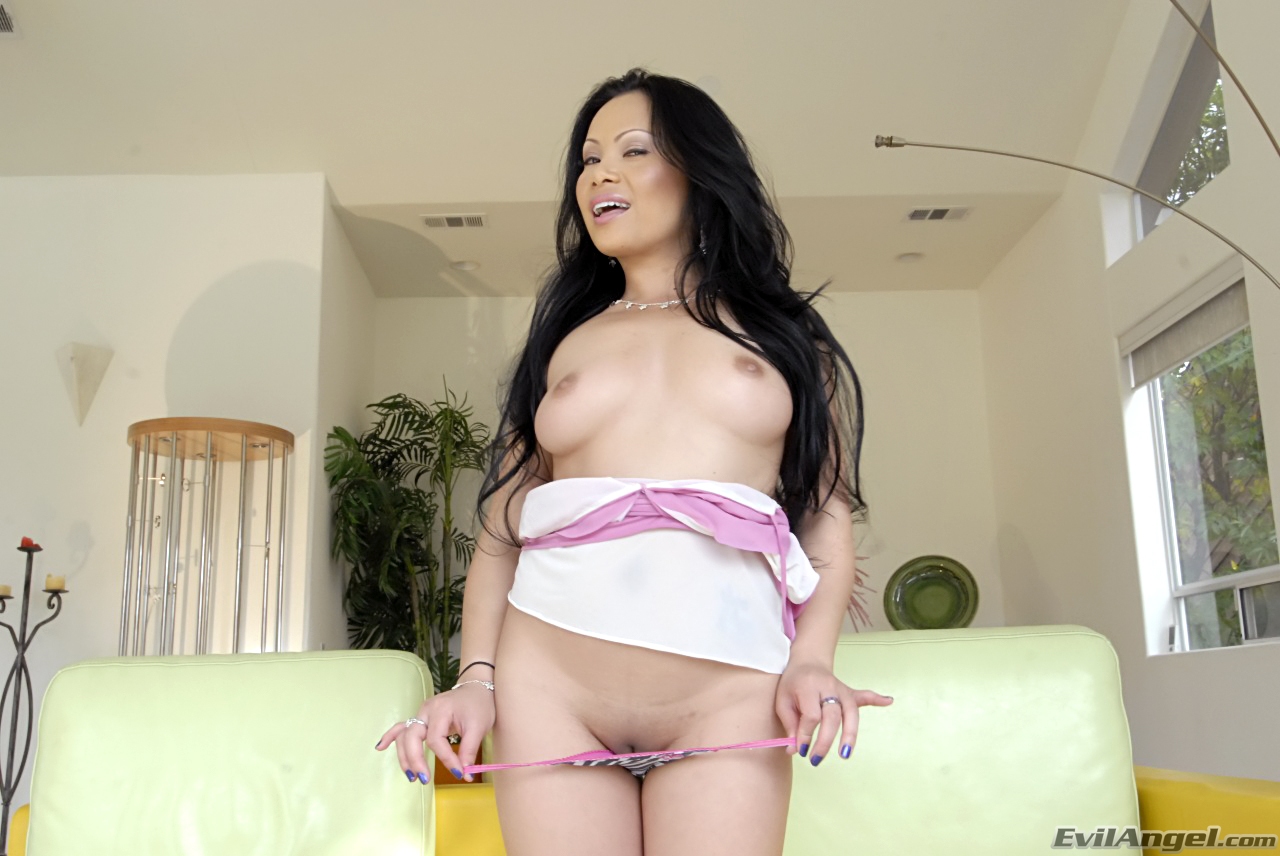 The next scene begins with Mya Luanna standing out on a balcony on a cold rainy day. She holds an umbrella over her as she and Mike engage in some short conversation. She then shows off her assets a little bit after Mike asks her to walk around. Mya's ass is showcased wonderfully through this segment as she expresses her love for oral sex and excitedness to get her ass fucked. The scene moves indoors after Mike has a short ass munching session with Mya's backside. When indoors, we start in on some dildo play as Mike generously pours some oil over Mya's picturesque ass. The dildo play really focuses nicely on Mya's asshole as she gapes and spreads after each insertion. The bj is after this, and Mya gets sloppy early on, smacking and popping on the cock wonderfully. The bj gets more and more sloppy as Mike jostles his cock in Mya's throat to produce some nice saliva strings. The fucking starts of course in anal, and is in a missionary position. The scene moves forward nicely as Mike continues railing Mya's ass in several different positions. There are a couple of nice moments where Mike pulls out and Mya pushes the air out of her asshole, making for some extra pervy fun. The scene ends with Mike busting a nut over Mya's face as she attempts to catch it all inside of her mouth. Good scene. Although this was probably my least favorite scene thus far, it was still a really good one.
---------------------------------------------------
Disc 2:
---------------------------------------------------
*Scene 4:
Jada Stevens/Tori Lux/Mike Adriano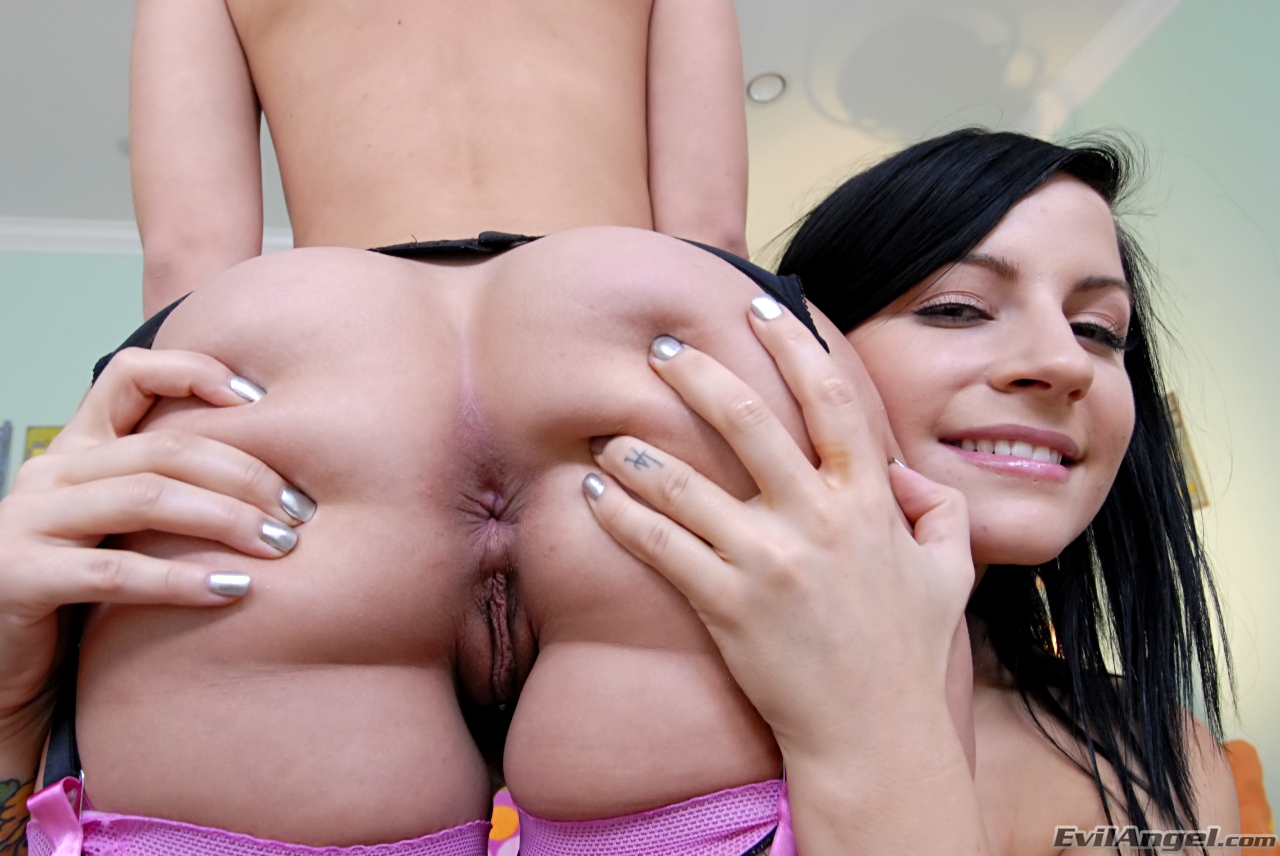 Now that I've taken my hand off of myself long enough to put the second disc in, we begin the fourth scene. It starts with Mike conversing with Jada Stevens as she wears a bright pink lingerie number and does some walking for Mike as he gawks from behind the camera. Jada shakes and jiggles her ass around making for a really nice tease segment. The camera then cuts to Tori Lux standing alongside Jada as we continue in some tease and convo between the stars. After some more tease the girls take turns eating and fingering each others holes while Mike coaches them from off camera. After about 20 minutes Mike jumps into the action where he holds Jada's asshole open while Tori tongue fucks it. The scene stays in this vein for awhile with the girls switching up positions at various times, and afterwards Mike does some ass eating to each of them while they lay bent over on the couch. The bj starts about 35 minutes into the scene and the girls get after it nicely early on. As we move along it gets pretty sloppy through the middle parts, and Tori takes the cocksucking duties shortly after Jada. The camera view then switches to a nice upshot of Jada and Tori blowing Mike as some trickles of dick spit drop onto the camera lens during this. After the bj follows some dildo play, and then the sex begins with Mike switching back and forth on the girls asses as they lay bent over the couch in a doggie position politely waiting for their turn. As we progress, Jada lays with her face down and her ass pointed to the sky as Tori rests her head on the top of her backside while Mike fucks Jada. Each time that Mike pulls out of Jada's ass Tori's hungry mouth waits for his cock to penetrate her throat, this is a fantastic segment here. This goes on for a while as it seems like all three of them have found their proper place in this equation. The scene charges on well with each of the girls showing great energy, as well as Mike give them a fantastic fucking. The scene comes to a close when Mike busts his nuts over top of Tori's ass cheeks while Jada licks off the excess juice before the girls share a nice makeout session afterwards. Another great scene to add to this collection, I'm really liking what I'm seeing in this film.
*Scene 5: *Scene to Remember*

Karina O'Reilley/Mike Adriano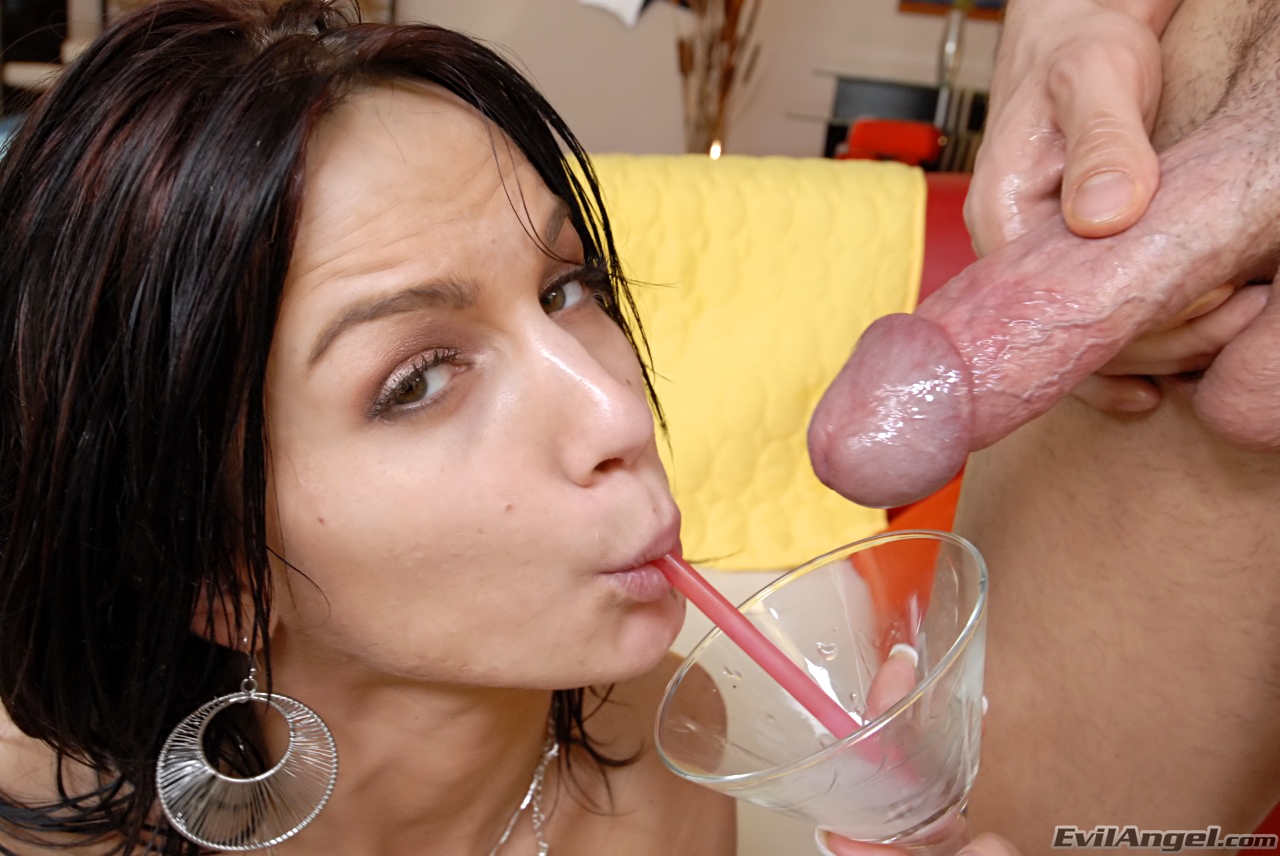 The next scene starts with the long and slender Karina O'Reilley starting things off as Mike shares some conversation with her much like the previous scenes. As Karina bends over you can see her buttplug protruding through her tight bikini bottom. Mike plays with her buttplug for a while before things get dirty in a hurry. Karina really gets hot here and as Mike plays with her she cums, there is a fantastic close up view of this as it takes place and I am in awe, the cum just drips out of her hole making for some awesome stroke material early on. The action moves indoors where Karina digs at her asshole for the camera like there is a buried treasure somewhere in there. Mike then pulls the speculum out and is baffled at how far this girls gape stretches, as am I. He stretches the speculum to full potential and Karina is still asking him to spread it further, wow. Baby got gape! Is that a movie yet? If it's not it should be, but I digress. Anyways, there is also some rectal prolapsing here which is not for everybody, so there's your warning prudes. The first 25 minutes or so of this scene consist mainly of this, Mike just lets Karina do her thing, and do her thing she does. This girl is the epitome of nasty, and when the bj begins you'll see exactly what I mean, if you haven't already. This blowjob is fucking epic, there's really not much more I can say about it. Every time that Mike lets up, Karina tells him not to stop and to continue fucking her face. Karina is a sloppy spit covered mess by the time the sex sets in, but I honestly could have written a novel on the blowjob I just saw. Wow. When the sex finally does set in, it's in a doggie style anal as we hear Karina moaning in pleasure as Mike seems to be struggling to hold back himself. The scene moves on with high intensity as Karina is really trying to win over Mike here. I think she's doing it too, this has to be the nastiest girl I've ever seen a movie with him. As Mike puts it to her it seems that she is in some sort of anal neverland as she begins talking jibberish like a crazy person. I'm sure that you've ready got the point but just to reiterate, the intensity in this scene is off the fucking charts. The scene comes to a close after Karina gives some monster deepthroats and rims Mike's asshole for a while before he gives her a martini glass with a straw in it. Mike jerks himself to completion and holds the glass carefully as to not let one drop hit the floor. Karina then drinks it up like she's dying of thirst and this is the last drop of liquid left on earth. All I can say about this scene is wow. I've watched alot of great Adriano scenes but this one honestly tops them all. It is definitely not for the faint of heart as there is some rectal prolapsing, but if you're a pervert like me, you will LOVE IT. At the end of the scene you can hear Mike talking off camera, he says that this is one of the best scenes he's ever shot in his career. I would agree, I have not even nearly watched all his scenes, but I've watched alot. This one was great.
*Bonus Scene:
Carolyn Reese/Mike Adriano
The bonus scene starts out with milfalicious Carolyn Reese. Mike asks her what she is here to do and Carolyn replies, "I'm here to suck big cock." Alrighty then. Mike continues by panning the camera up and down her body to show all the home viewers the goods. We continue with the tease as Carolyn pours a jello/juice type of liquid over her tits while the camera gets some nice close up shots of her doing it. The action begins in a bj format as Carolyn starts pretty sensually and later goes a little harder. The action gets a little harder later on but comes to an end very quickly. Carolyn takes an in-mouth load and proceeds by drooling it back out onto her tits. This scene was pretty subpar, only about 20 minutes, and nothing more than a bj, but it was a bonus scene after all.
*Summary:
The time and energy put into this film was fantastic to me. Each scene had a raw energy that made them very genuine. The girls in the film seemed to enjoy themselves thoroughly as well, which is always wonderful to see. I personally thought that the scene with Karina O' Reilley was the best simply because of the solid hardcore effort by both Mike and Karina, it was a little different than many of Mike's scenes, but different in a very good way. There's really not much left to say about the film that I haven't already said in the scene recaps, it was fucking great. You should buy this film. Mike is still relatively new to the Evil Angel family, but this movie shows how much he truly cares about producing great movies, and why he belongs with Evil Angel. It's never about a location, or some stupid skit with Mike. It's about the sex, and about the chemistry of the scene, that's what he brings to his movies that makes him stand out from many others. I truly hope that Mike never loses his passion for making these movies because to me, he produces some of the very best stuff that is available.
--------------------------------------------------
i apologize for any grammatical errors, i was beating off when i wrote this.
Follow me on twitter @ ThePornoNerd
ThePornoNerd.tumblr.com
comments powered by