Porn Reviews » Adult Movie Reviews » Girlfriends

-- sponsored by --

Genre: Lesbian

Director: Stormy Daniels

Cast: Scarlet Red, Casey Calvert, August Ames, Lily Cade, Sasha Heart, AJ Applegate

Audio/Video: Audio and video quality were good.

Length: 1 hour, 26 minutes

Release Date: 8/14/2015

Extras: BTS, Photo Galleries, Trailers, Bonus Scenes

Condoms: No

Overview: Stormy Daniels presents to us a good lesbian love story but one that is full of erotic Sapphic sex. It helps that Casey Calvert, as the main character and the object of lust for so many women, plays her role to a tee while Scarlet Red is also impressive in her role as a friend with a secret crush. Stormy does what many directors seem unable or unwilling to do—give us a good feature with an interesting plot, hot sex and all in under 90 minutes.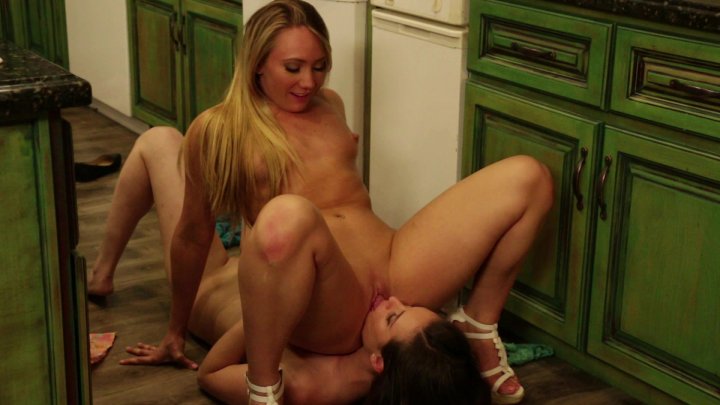 Scene 1 Casey Calvert, AJ Applegate
Just after the credits roll we see Casey and AJ already started in their makeout session which leads to a sexy steamy kitchen romp. AJ is all over Casey's body, licking her and sucking whatever her mouth finds, turning Casey on the more AJ explores. Licking up Casey's clit, AJ turns Casey around then has her tongue on her butthole, totally turning Casey on. Casey jumps at the chance to sample AJ's curvy goods, and eats her girlfriend out good causing her to climax hard. It's short but fulfilling, then when Casey's parents find out their daughter is a lesbian, they disown her as well as AJ, who is not interested in being in a relationship with her any more due to this and other ambiguous reasons.
Scene 2 Casey Calvert, Sasha Heart
Casey's best friend Scarlet convinces Casey to visit her in LA and when Casey shows up she instantly hooks up with powerhouse editor Sasha Heart. Sasha looks good but she tended to over-act her role with her cheesy sounding deep voice she puts on to try to act more "manly" to her new friend. Fortunately we don't have to see her act or hear her much as they go out and we see their date in montage form, which then leads to a lesbian sex session later that day. Once more, Casey's butt is explored as Sasha's tongue finds her way to her butthole, eating Casey out and getting Casey worked up to go down on Sasha's box. Their erotic lesbian session definitely gets you more worked up with their obvious chemistry in full blown view. When it's over Scarlet doesn't appear too happy and her best guy friend lets her know that she is in love with Casey. Scarlet thinks that's crazy but he knows it's true, but Scarlet leaves to prove she's not a lesbian.
Scene 3 Lily Cade, August Ames
Lily, always a fine performer sexually and acting-wise, approaches Scarlet who finds herself in a lesbian bar. Scarlet catches August's eyes, Lily's girlfriend, and Lily persuades Scarlet to come home with them. Scarlet does but as soon as August comes on to her, Scarlet has to leave as she has no feelings or desire to be a part of the threesome. That leaves Lily and August all alone. Both ladies are gorgeous and deliver a sexy tryst. August letting the more dominat Lily take control for the most part. August does peel off Lily's clothes and starts sampling her milky white body, then buries her face in Lily's firecrotch. Lily decides she wants to sample August's sexy body and starts to manhandle her little girlfriend. We see Lily have her way with August, eat her out but then the scene goes back to the beginning of the tryst when both are still clothed. We essentially see the last five minutes all over again, an issue quality control should've picked up on. There was no different camera angle, nothing different about this, plus if Stormy were trying to show us something different, the continuity is off. Before this happened both ladies were fully nude and with this error, both have their clothes back on. Really, really bad, sorry to say. But once that's over the girls go back to tasting each other's sweet bodies. Lily and her trusty strap-on enter August and Lily begins thrusting her hard, August's moans sounding real and her facial expressions says it all as she cums hard from Lily's expert handling of her plastic phallus. It's a good scene ruined a bit by that one technical error but the scene doesn't feel thrown in but more as an addition to this already interesting love story.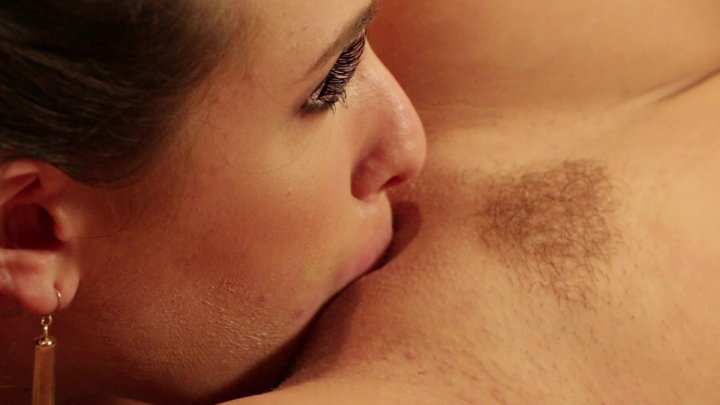 Scene 4 Casey Calvert, Scarlet Red
After returning home Scarlet is alone in her tub. Casey comes back from another date with Sasha and meets Scarlet crying in the tub. Scarlet finally tells Casey she loves her and Casey also tells Scarlet the same. The two are now in the tub and start to kiss and begin a much more intimate and sensual sex session but still is just as erotic as the three previous scenes. While it moves slower we see the two really make passionate love to one another, their hands feeling one another up and lots of kissing and necking. Casey is first with tasting Scarlet's box and causes her new girlfriend to cum hard. Scarlet is also infatuated with Casey's butt, licking her butthole clean then licking her clit until Casey explodes, then going at it again until the scene goes to black as we continue to see Scarlet lovingly eat Casey out.
Summary: Most guys, like me, will just be interested in the sex but I actually enjoyed sitting through the dialogue. It helps that it was short, interesting, very realistic, excellent acting, funny at times, and even a bit steamy. Starting off with seeing Casey and AJ at the beginning of a hot sex session helps a lot, plus the lesbian sex throughout was scorching. I admit I only sit through features when I have to review them, being pleasantly surprised by many of them, but wouldn't watch them on my own time, but Girlfriends I would gladly sit through again. The sex is just too hot. A few tiny misses plus that one technical issue, which there was no reason for missing, just make me Recommend this one but definitely go see this one if you really love lesbian sex made for women and men, and definitely love Casey Calvert.
comments powered by