Ashley Graham
---
Ashley Graham
Ashley Graham Movies
|
Ashley Graham's Site
|
Ashley Graham on Twitter
How Do They Always Find Me?
I have this knack since I was little for attracting stray animals. I don't mean occassionally they walk up to me, I mean that growing up I would take in two to three stray animals a year. I can remember my mom not minding it, but my dad hated it. My mom's opinion was that we lived on a house on 4 acres with an orchard and huge garden in the back yard, so the more the merrier. MY dad's opinion was strays were not to be taken in, but kicked to the curb because they were not our responsibility. I took after my mom. Truth be told, I'm a country girl at heart. I would love nothing more than having a huge ranch house with a glorious backyard, pool and spa and a grill. I thought I lost this knack since I haven't taken in a stray between the ages of 16 and 22. I was wrong.
About a year ago, I was driving my BRAND NEW; I mean I bought it the day before never driven before; car and I saw a pit bull. He was on the side of the road all bloody with chains wrapped around his neck. Three cars were already pulled over, but he was not responding to anyone, so I pulled over. I rolled my window down, whistled, and here came this pitiful looking pitbull covered in bites and blood. He began to follow my car. I know better than to pick up stray large dogs, so I went and got Scott, told him the predicament and off we went. We caught up to him and called animal control. The pit was sweeter than honey and he was cuddling with us by the time the animal control guy came. When I asked what would happen to the dog I was told that he would be put to sleep in 3 days most likely. My bleeding heart told the man to go and I'd keep him. We nursed Brutus back to health and swore we'd give him away. We just never did. He has a heart murmur, he's covered in scars and missing half a ball from dog fights, and he's the most gentle dog I've ever had. Of course the exception is when he wants to cuddle with Scott or me and then he pushes the other humans near them off the couch.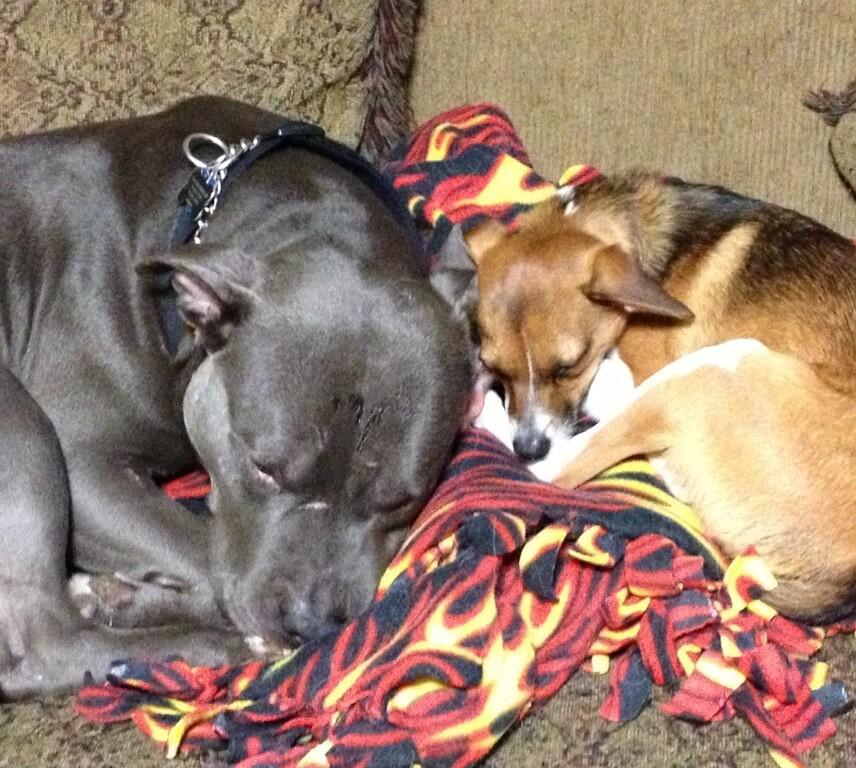 Scott and I moved into a house 6 months ago. By this time, Brutus had picked Scott as his owner, he still loved me, but he bonded with Scott. So, I wanted a dog, my own dog. I started looking around. Then, I saw an ad. Down the street, someone's dog had knocked up the neighbor's dog. Being the responsible pet owner that the female dog's owner was they gave the puppies back to the male dog's owner saying that it wasn't their fault the male dog had knocked up their female dog. Listen people, you don't want puppies, FIX your dogs, there's so many health benefits too and no reason not to do it unless you plan on breeding. So, here these people were stuck with a litter of puppies and they were down to one. They were going to take this adorable Jack Russel Chihuahua mix to the pound because no one would adopt him. I went and looked and asked why he was the only one left. They told me he didn't like children and was very shaky. I thought great I don't like children either and I took him. His name is now Lukas or Luke Skywalker and is all over my twitter. I love him dearly and am glad I adopted another dog who may have been put to sleep.
Cue two days ago. I was outside on my phone talking to a friend and this cat who lives under my porch came over and start meowing at me. Loudly! So, I pet him. In petting him, I realized that he was covered in fleas. So much so, that they were crawling off his fur and I could see them easily. I think he or she belongs to my neighbor, but they're never home and obviously don't care for him if he has that many fleas. Now, I'm basically stuck with this cat. I went out yesterday and bought him flea meds and tapeworm meds. Now, I have a cat pretty much because of another irresponsible pet owner.
It's not that I mind these animals are attracted to me. I mean it's starting to make my house a bit of a menagerie, but it's ok. I'm used to people telling me, my animal hates people and two minutes later they're cuddling with me. I guess it's something in my energy that says I'll care for them. My problem is with these owners. People buy these pets thinking they're so cute or this will be easy. Pets are not easy, nor are they cheap. They require shots and medications and they are poor, innocent creatures who depend on you for love, affection, and care. They're almost like babies or children caught in animal's bodies. MY point is, don't buy or take a pet unless you want them and can take the responsibility of caring for them and loving them. They're not going to die in 5 years or need less care. You are stuck with this best animal for the next 10-15 years and possibly longer. To be honest, I prefer my animals to most people. I'm also not a cat person, but I will not see one be abused by lack of care or love, so I'm sure we will learn to love each other. On that note, Luke is now scratching at the door to go out and I hear the cat screaming for food. So, I guess that means I'm done here.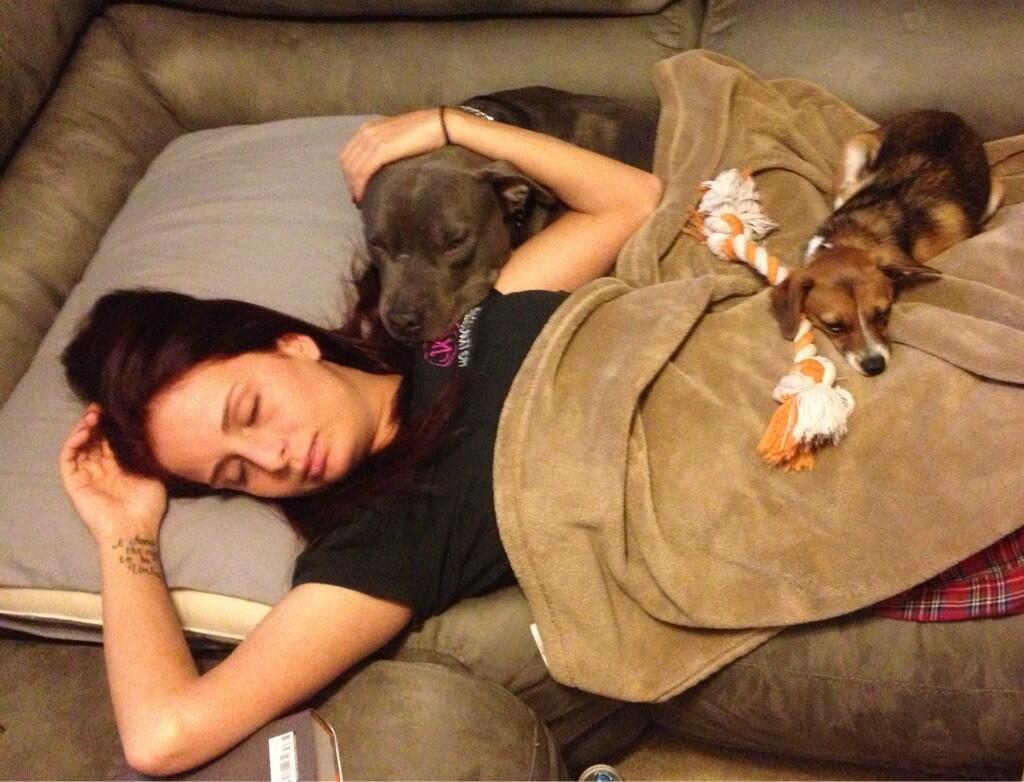 I'll also be adding items to my wishlist here for the poor kitty if anyone wants to help
http://www.amazon.com/gp/registry/wishlist/2KG51NXEMEPFV?ie=UTF8&ref_=cm_wl_search_1#
comments powered by
Add
Ashley Graham Feed
to your favorite RSS/News Reader:

Archives
Want to read more
reviews of Adult DVDs
? Be sure to check out the
XCritic Adult DVD Review Database
with thousands of adult DVD Reviews. Also get all the latest
Porn News
in our
Porn News Wire