Porn Reviews » Sex Toy Reviews » Spice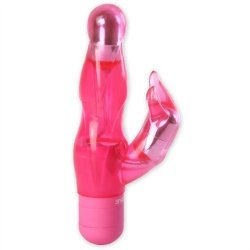 images courtesy of ADE


So, having found one toy to be less than appealing, Nadine decided to try another, albeit also limited one, on for size. This time it was the Spice from Evolved Novelties "Short & Sweet" series, the branch of the company dedicated to smaller toys with still-decent vibrations but not as much length or girth to speak of. I had my doubts going in on this round too because while she is no size queen, she definitely prefers a toy big enough to please her just as she likes strong vibrations. Thankfully, it seemed she found a winner in the neon pink jelly vibrator.
Support Our Sponsor:
Measuring 6.5" in length but only providing about 3.75" of useable length, the toy was not a pocket rocket but it did provide almost 1.5" in diameter for those that care. Best of all were the two vibrating bullets that powered those pleasing vibes, one on the clitoral stimulator and the other on the tip of the head. The device used two AAA batteries so I knew it would not last as long or be as strong as some of the big boys (testing timed out at around 85 minutes), the phthalate free, RoHS compliant toy manufactured in Mainland China. The Spicehad a cute clitoral stimulator too, looking something like it was giving her the finger, reasonably quiet on all but the highest setting. The on/off switch was located on the bottom of the toy and provided three settings, described by Nadine as "is it on yet?", "not bad", and "pretty good for the size".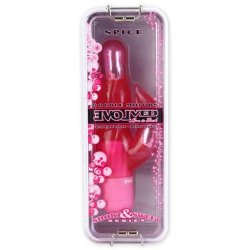 The case, also made in China, was a metal box with those popular metal hinges to secure the clear plastic cover, the company logo in raised plastic (perhaps for the blind to appreciate). The third level was noisy unless being actively used on someone but this was mostly noticed just as I tested the claim that it was water proof in the bath tub. It did not appear to leak for the several minutes it was submerged and jelly material took very little lube once Nadine was up and running with it, her own juices flowing just fine to allow it to slip in and out with ease. While there was no stated caution regarding anal use, I know some folks refrain from using jelly toys in their back door unless that is the only place they use it or at very least just for themselves, Nadine remarking that we should have tried this one on me instead, my polite declining of her offer eliciting a smile and chuckle.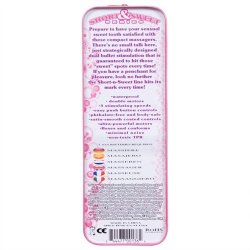 One of the points Nadine made regarding the strength of the vibrations was that while the tip is a great place for a bullet initially, once a toy starts being used for penetration, a bullet closer to the shaft where the stem of the clitoral stimulator would be preferred. After all, she reasoned, that is where the second most numerous nerve endings are located (after the clit) and while the awkwardly shaped stem is buzzing away delightfully on her clit, having more direct stimulation on the labia majora surrounding the shaft might make more sense. Still, she got off easily by herself without any need for assistance, my helping her the second time the toy was tested allowing some fun play as well so she believed it merited a rating of Recommended. And those that want the toy specifications from the company website:

• Waterproof
• True Multispeed
• 100% European Silicone
• Phthalate-free
• Maximum intensity with minimum noise
• Seamless design conforms to body's contours
• Made in China
• Waterproof
• Double motors
• 3 stimulating speeds
• Easy push-button controls
• Phthalate-free and body-safe
• Satin-Smooth coated controls
• Ultra-powerful motors
• Flexes and conforms
• Minimal noise
• Non-toxic TPR
It was flexible, jelly soft, and fun to use so check this one out and I think you'll enjoy it, the price tag a bit on the high end (typically between $40 and $60) but Evolved Novelties stands by their products and have shown an independent upstart can best some of the largest toy manufacturers at their own game on plenty of occasions, supporting the underdog the least I could do (even if I didn't enjoy their movies from Zero Tolerance, Third Degree Films, and Diabolic so much).
----
You can email me with questions at Houstondon @ hotmail.com if you have any constructive criticism of the review too. :) Also you can follow me on twitter @HoustonDon
Recent Blogs

Recent News

Recent Columns

Key Articles:
Resources
Recent Photo Galleries