Porn Reviews » Sex Toy Reviews » Riley Steele's Pleasure Ring Many people have limited exposure to sex toys compared to how often they view porn itself, yet sex toys have been popular since long before porn exited, predating most existing cultures by a long time. Toys are used to enhance one of our strongest drives, the sex drive, and in that sense, porn can be viewed as simply another form of "toy", fueling our imaginations to give us better (and more) orgasms. Suffice it to say that just as very few ladies stand out from the crowd in modern porn, very few toys do likewise, the sheer numbers of both boggling all comprehension when looked at closely enough. As piracy strips away the profit margin of most porn production companies though, several have boosted their profit margin by entering into partnerships to make toys since, as it is said, "they can't be stolen by downloading pirates." Whatever your stance is on content theft, the truth of the matter is that there is fierce competition in both fields of adult endeavor, making toy reviews for products like the Riley Steele Pleasure Ring all the more important.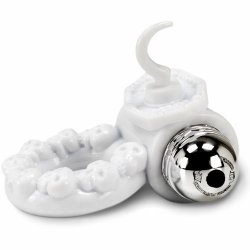 Support Our Sponsor:
The toy is a cock ring with a vibrating bullet attached, the ring itself extremely pliable and made of some form of phthalate free material. White in color with a pirate hook on the front (again, soft so no danger to you) and a series of skulls along the ring itself, the motif came from the ever popular Pirates 2 Stagnetti's Revenge; one of the biggest scale productions in the industry since it was released a few years back. Frankly though, the ring was the least interesting part of the package, the silver-colored vibrating bullet much more interesting to speak of. It appeared to be the same vibrator as the company's pendant vibe (sans the loop and necklace) with a simple push button activator switch. While not made for insertion (it was "splash proof" rather than waterproof), it had five settings to pick from by merely pushing the black button on the end of the toy in succession.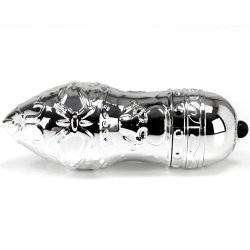 For such a small device, it had a pretty solid vibration, well suited for those that need something extra to get off with and powered by three small watch batteries that were included (note: you have to remove the paper tab that separates the batteries to make it work, perhaps shipped that way to keep them from being inadvertently used up. Once placed in the ring's upper loop, it is designed to give your mate a clitoral stimulus as you penetrate her pussy, the novelty working quite well in that regard. I did not try to see how splash proof it was since moisture is the enemy of all electrical devices but err on the side of caution when using it and refrain from stuffing it anywhere wet if possible. And those that suggest they are too large for such a small ring need only try to stretch it out by hand to see that no human alive would be too big for it, though it does pinch if you are not careful when placing it on your pecker.
How much the toy has to do with lovely Riley Steele was not mentioned on the package and I dare say she had no clear input on its design or engineering but whatever else may be said, it worked in excess of 30 minutes before I noticed the droning buzz dying off into oblivion, the bullet about as loud as a cell phone placed on vibrate (not too loud but far from silent). I would have liked it to be waterproof, the batteries last longer, and the packaging to be more permanent than the plastic box it came in but frankly, it worked well enough to merit a rating of Recommended from me, the stirring picture of Riley on the cover reminding me how good she looked in the movie this was based on. It might not have been the most powerful toy in its size class but overall, it worked enough in bed that I have to go get some more watch batteries, repeated use always a good sign for the quality of a toy.
----
You can email me with questions at Houstondon @ hotmail.com if you have any constructive criticism of the review too. :) Also you can follow me on twitter @HoustonDon
Recent Blogs

Recent News

Recent Columns

Key Articles:
Resources
Recent Photo Galleries