Porn Reviews » Sex Toy Reviews » Jesse Jane's Pirate Booty Stroker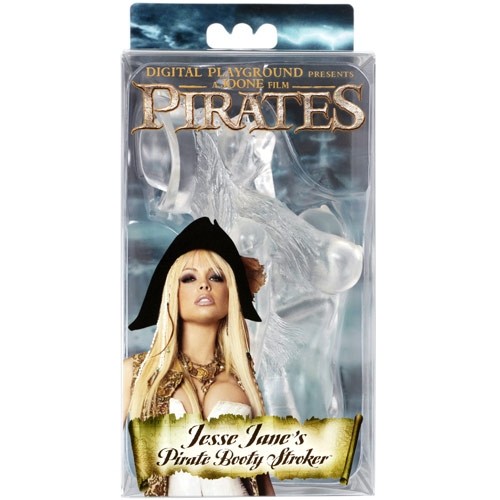 pictures courtesy of ADE
It's a given that most sex toys are made for women or with women in mind. Look at the various sex shops and websites out there that either specialize in such devices or provide a substantial number of them for sale, a growing number from what I've seen as various porn production companies look to restoring their profit margin by means of something that can't be stolen by online pirates. Of the toys made for men though, few really serve to assist straight men, the plethora of toys available with men in mind seem either dedicated to fetish enthusiasts (BDSM) or gay males, the closest most straight men come to the subject being using online classifieds to find a bed buddy of sorts. Well, Digital Playground has seen fit to offer a toy just for men recently, a device called
Jesse Jane's Pirate Booty Stroker
, the one sent to me being made of a clear "100% medical grade" cyber skin.
The toy is the latest in a long line of masturbatory cock sleeves, the idea being to increase the friction as a male jerks off. The tunnel runs from one end (a simulated "mouth") to the other (a simulated "ass"), the ridges inside designed to feel good on your cock as you stroke it to a happy ending. There was no motor or vibrator to require batteries, the device patterned at least somewhat after lovely Jesse Jane in this latest toy inspired from the Pirates 2 collection that has proven so popular. The plastic was soft and the holes very tight, the "mouth" hole too tight for me to penetrate it in fact, bringing up my one real issue with the toy.
Those of you that have tried some of these devices in the past will probably know that if there is only one hole, it will have superior suction but give issues with cleaning it thoroughly as well as pumping it. Double hole devices such as this are easier to clean but result in a mess if the toy doesn't account for where the genetic juice is supposed to go, the Jesse Jane's Pirate Booty Stroker barely long enough to cover my whole cock. Needless to say, that means every time I ejaculate, the semen flies out the opposing end (for me being the mouth since it was too narrow to wrap around my rod). If that was what I was looking for, I could simply jerk off with my own hand in a more cleanly manner, the added thrill of the visual aid aside.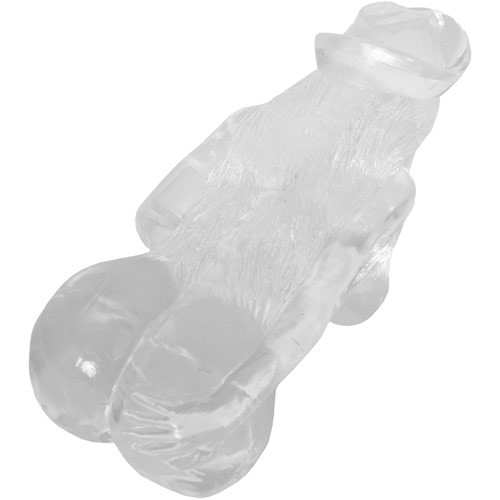 The packaging was decent enough, playing up the Pirates 2 theme, the stretchable material not realistically fleshy in any significant sense but certainly among the softest of such toys I've tried in awhile. It also claims to be phthalate free but makes no mention of geographic production, almost certainly mainland China from my experience. The benefit over using this as opposed to your bare hand were minimal though, the ability to cover the opposite hole to increase suction not bad but hardly worth $35 yet I could see where some folks might want to replace a lesser device and not spend as much as a Fleshlight would cost. For those folks, I'll give a big thumbs up but for most, the best I can offer would be to check one out or to Skip It, depending on your budget. Real pussy feels a lot different and simulated pussies like this one are common, the expense just not truly justified unless you find a close out sale. If Jesse Jane were to sign them for fans or otherwise show some sort of participation in the production, I could almost see this working as a fan based gimmick but even though a stiff dick has no conscience, you might find something better for the money.
----
You can email me with questions at Houstondon @ hotmail.com if you have any constructive criticism of the review too. :) Also you can follow me on twitter @HoustonDon
Recent Blogs

Recent News

Recent Columns

Key Articles:
Resources
Recent Photo Galleries