Porn Reviews » Sex Toy Reviews » Pirates Hidden Pleasure Vibe

I know that comparing vibrators is often done by the packaging alone, so many cheesy looking packages dissuading consumers from dropping more than a couple dozen dollars no matter how good the actual device is. As a result, a handful of upscale companies have made real inroads into the consumer market of late, making me wonder how my friends at Digital Playground are doing with their

Pirates

themed novelties they've told me so much about. Today I look at the

Pirates Hidden Treasure Vibe

, a small vibrator using a single AA battery (not included) to power three separate speeds of vibrational delight.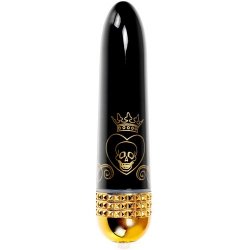 First off, I should tell you that this toy isn't cheap, most retailers online selling it for around $60, hardly a low priced toy even if it is phthalate free and comes in a cute treasure chest-styled holder lined in black satin. Sadly, the entire package comes in the usual clear plastic (hint: environmentally harmful) flimsy container and the chest the toy stores in was more cheap plastic. Those two strikes against it (three if you consider price), the device actually had some decent levels of vibration for newcomers, the first level not nearly enough but the third seemed pretty solid. Nadine took to working with it readily and while she found the first two levels on the weak side ("why bother?!?" was her comment), she pointed out that it could be used vaginally or anally, though the gleam in her eye made me wonder whether I should sleep with one eye open for awhile.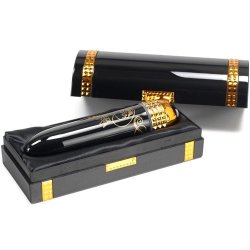 It had an "O" ring to keep water out of the battery casing, the packaging clearly stating the vibrator was only "splash proof" and not "water proof" as most aficionados prefer. This meant I could skip the submersion testing but gave it the appearance of skimping on a valuable feature considering the intended use. Still, Nadine got off with it and the battery lasted over twenty minutes, though not much more, on the highest setting. The skull design in gold tone paint on the black device did not seem like it would last long with constant use and the base looked really cheap compared to the advertised claim of it being "gem designed". Compared to other toys in the company lineup that have many more options for vibrational speeds (and patterns) and are so much larger than the under 4" useable length for insertion, I just couldn't justify spending so much money for so little toy, even from one of my favorite production companies so consider this mini-review a suggestion to Skip It when it comes to the Pirates Hidden Treasure Vibe unless you have a bunch of money burning a hole in your pocket. There are just too many superior choices at the company (or on the market overall) to spend extra for the imagined connection to the company's last big movie hit.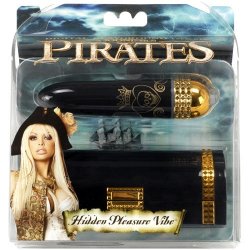 ----
You can email me with questions at Houstondon @ hotmail.com if you have any constructive criticism of the review too. :) Also you can follow me on twitter @HoustonDon