Porn Reviews » Sex Toy Reviews » Roulette - All on Red
High Roller
Support Our Sponsor:
Evolved Novelties
is one of my favorite toy companies these days, the majority of reviews for their products suggesting that are consistently improving their lineup and listening to consumers. While there are lots of much more expensive toys sharing similar traits, a lot of people are price conscious these days and appreciate that even though the company doesn't focus on the low end market, they are aware that price helps make a difference in sales. One of their newest lines is the "Roulette" selection made and assembled in Europe (the clear plastic cases made in China still proving much better than most of what you will find available too). These toys has a spinning control wheel at the bottom to regulate their speed, all of them made out of a phthalate free silicone that can be sterilized with ease during cleaning. I have not had extensive experience with the entire selection of the toys in this line but suffice it to say that Nadine and I have appreciated the extra quality used to make them something special, especially in their price range. Well, Nadine opened up the mail last week to find three of their latest releases for review, the rest of the week proving to keep me on my toes as well as her on her back (ducking) but both of us happy, the
High Roller
,
All On Red
, and
Bet On Black
extremely similar except in color variations and the design of their top portion, so we decided it made sense to review them together.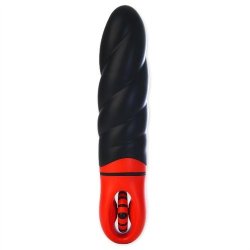 Bet On Black

Okay, the materials and inner components (motors) seemed to be the same, all of them proving waterproof in a 10 minute submersion test. Their "body safe" nature appealed to both of us since we have been known to entertain friends at times, and each lasted in excess of 45 minutes on the two "AA" batteries they were powered with. In terms of their usable length, each measured a little over 5" long and about 1.5" wide at the thickest point, the stout nature of the Bet On Black just a tad thicker near the internal vibrating bullet on the upper portion of the toy. Each provided a similar degree of vibrations which was suitable at the highest speed to get her off, some minor rubbing around my privates working just fine to include me into the mix during some oral foreplay.
All On Red

In a blindfold "tactile" test (much like a taste test for food products), Nadine could not tell the difference between the three toys, the incentives provided including her top fantasy (pun intended) of taking complete charge of me with one. Luckily for me, they all felt so similar due to the same materials and construction that I was safe for another day. In a related note, while she did not try a technical DP using the toys, she did get off with them used on her clitoris, in her pussy, and in her ass regardless of my personal participation in warming her up with foreplay but this is a strength since not all toys measure up as well with couples as they do for solo experiences.
The solo fun reminded her to tell me that she prefers the control wheel these three devices use over push buttons and wired units, the only other specific comment being that she noticed they are hollow inside so the Bet On Black had slightly more "give" to it higher up. As has proven to be the case, the control handles all have a variation of the domestic "O" ring to keep the batteries and internal mechanisms safe, made of hard plastic of differing colors. As far as what she would rate them, this was a tricky point because balancing out the cost, the materials, the strength of the vibrations, and the other technical factors, she was borderline leaning on Recommended because she still wants them to add more power. As gifts for those that aren't "strength queens", the casing alone escalates the value over the great many cheesy plastic packages so environmentally unsound, and for simplicity of use she says they are as great for beginners as anyone else. In any case, our experiences have proven that all of the toys reviewed in the "Roulette" line worked to get her off, are safe and fun, and satisfy most factors on a mid-level pricing tier so check them out when you are looking for some assistance in the bedroom.
----
You can email me with questions at Houstondon @ hotmail.com if you have any constructive criticism of the review too. :) Also you can follow me on twitter @HoustonDon
Recent Blogs

Recent News

Recent Columns

Key Articles:
Resources
Recent Photo Galleries